360Converter Offline Transcriber
With 360Converter Offline Transcriber, you can easily transcribe local video, audio file or YouTube video, do not need upload your file to anywhere, do not need wait in long queue for your transcript and no file size limitation. Plus no time limitation if you buy a license.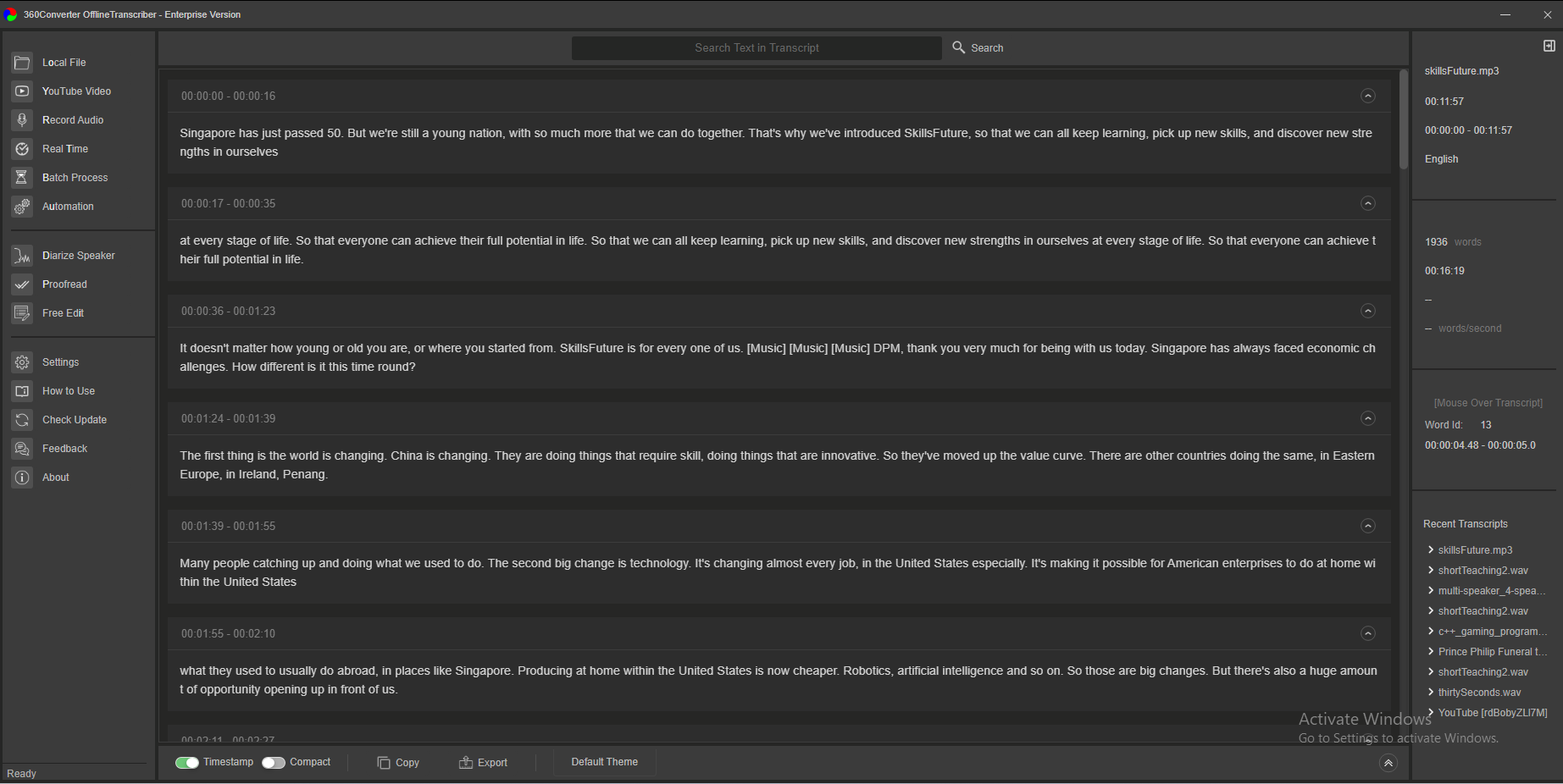 (Screenshot of Offline Transcriber)
Features
Sources

You can open following files and url,

Local Video
Local Audio
YouTube Video

Simply copy/paste YouTube video url.

Video and Audio Format

Video Format

mp4 | asf | avi | wmv | ogv | dat | mpeg | flv | 3gp | webm | rm | 3gpp | 3g2 | mov

Audio Format

mp3 | wav | wma | pcm | oga | aac | avr | m4a | m4b

Record Audio

Use OfflineTranscriber to record audio then transcribe it. It is useful for meeting notes.

Realtime Transcribing

Get your transcript or meeting notes when speaker is speaking at same time.

Speaker Diarization

If audio/video is related to a conversion or talk, you want to transcribe and mark WHEN and WHO speaks WHAT, then Speaker Diarization will help you. You can,

give name for each speaker
show only one of speaker's words
hide a speaker's words

Translation

You can either transcribe audio/video to source language or English. For example, the language in audio/video is French, you can choose transcribing to French transcript or transcribing and translating to English.

Punctuation

Automatically adding punctuation to transcript.

Proofread

Listen audio/video file
Play word in sync mode
Modify, delete or add word

Free Edit

Edit transcript like what you usually do in Word
Export your version of transcript
Export as pdf, docx and txt file

Batch Process

Add batch of audio or video files, then transcribe them all.
It will also export transcript to preferred location and format.
View it once finished or delete it.

History Record

OfflineTranscriber will remember the latest ten transcribing records.
View, delete or export record anytime.

Search

Search in script
Iterate all matches
Highlight matches

Export

PDF file
DOCX file
TXT file
SRT file
Languages
You can transcribe audio/video that is of 34 languages, such as:
English
Chinese
French
Spanish
German
Italian
Russian
Arabic
Vietnamese
To get full list of languages supported, download OfflineTranscriber and try. Or contact us to check if the language you preferred is in the list.
Operating System
Windows 11
Windows 10( 64bit )
Windows 7( 64bit )
Mac OS X
Linux( Ubuntu )( coming soon )
Download
You can download 360Converter Offline Transcriber completely free of charge. When initiating the download, please ensure that you select the appropriate version of your operating system. For Windows users, you will receive a compressed zip file, whereas macOS users will receive a DMG file for installation.
Install
For Windows, Once you downloaded the installer, uncompress with WinRar, zip or 7z program. You will get a executable file, namely 360ConverterTranscriberSetup.exe. Double click to start. Simply all the way click next except for Windows VC runtime for which, click 'agree' and install.
For macOS, double click 360ConverterOfflineTranscriber.dmg then drop to Application folder to finish installation.
More details, read
How to Install 360Converter Offline Transcriber.
Buy License
Initially the version you installed is trial version in which you are allowed to transcribe 2 minutes file. To get ride of this limitation, just buy a License of 360Converter Offline Transcriber.
There are four type of licenses,
Free Trial
Standard License
Premium License
Professional License
Each license shipes unique group of features. Check 360Converter Offline Transcriber License Introduction more details.
Once payment is done, you will receive license code from 360Converter, like

within 48 hours. If not, please contact our support.
Activate
Copy the license code you received, put cursor into the first box of 'Activation Dialog', then ctrl + v, it will automatically detects the license code you have copied and fill each filed of boxes in Windows; for macOS, put each field of the license code, then click 'Activate' button.
Support
In the situation where 360Converter Offline Transcriber refuses to work, closes it suddenly or crashes, you could collect log file and send it to us by which we can tell what happened at your side. We could either solve the problem immediately, provide a work-around or plan to fix it and produce a patch if it is a bug. To retrieve the log file, read Prepare Log File.
To get support, or any question you want to ask, firstly visit section - 360Converter Offline Transcriber in FAQ page, if you could not find answer in above option, then file a support ticket via Feedback.
iOS App
iOS app is provided - O.L Transcriber, which helps you do realtime transcribing and transcribing audio/video file without internet connection. It empowers you to,
real-time transcribing
record audio first, later transcribe it
transcribe audio/video file in local library, iCloud and Camera roll
export or share transcript in txt or pdf format
It maximises your data privacy as it does NOT upload your audio/video to anywhere, while it transcribes them locally.
Try O.L Transcriber now.